Though traditionally planning a wedding has been seen as something which only one half of the wedding couple takes charge over, in this day and age both members of the wedding party are getting increasingly getting stuck in to making their big day special.
---
The wedding season is nearly here and so it's time for our yearly round-up of the latest wedding looks for grooms in 2022.
---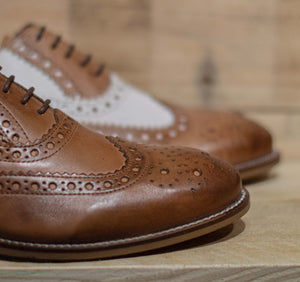 It's a common myth, when buying leather shoes, that you should have to tolerate excessive discomfort. Often people will buy a shoe which is too small in the hopes that the leather will eventually stretch enough for comfort. Yes leather will become more supple as it flexes and moulds to your feet, but you should always aim for the best possible fit when looking to buy a pair of leather shoes.  We have a range of options available to the fashion conscious footwear connoisseur with wider feet. How Can Narrow Shoes hurt Wide feet Regularly wearing shoes which are too...
---
With their flair and personality it's no surprise that Brogues are looking to be a popular shoe choice in 2022. But with so many amazing pairs of shoes from, and so many different places to visit and people to see, how can you possibly decide which brogue is best for your new year?
---
• chelsea boot • formal shoe • groom shoes • leather brogue • mens accessories • mens footwear • mens gifts • washbag
This Autumn, We have some exciting new products to introduce. Please be upstanding for the fabulous Ripley oxford shoe, Henry brogues Chelsea boot and our tweed and leather wash bag.